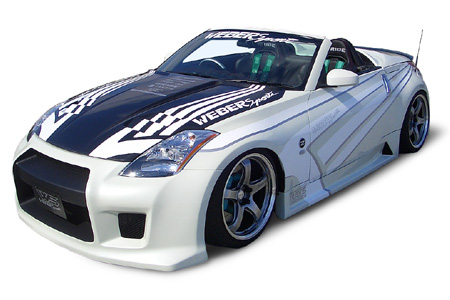 The Face Line formed by WEBERSPORTS was influenced by the new model of Nissan GTR.
In order to create more reality the Front Opening is made by Carbon.
The Front Bumper design that emphasizes the aerodynamic is exactly that of a GT car and not only can it be imagined running on a circuit course but also one can see it driven smoothly on a winding course.
The aerodynamic design is perfectly suited in the ultimate dress-up of "as low as possible, as wide as a possible".
The Rear Wing that is exclusive of the Roadster is suited to make it look "Sharp" instead of a "Fat and Wide" feel that is typical of the Roadster.
The Aero Kit not only gets a lot of attention not only from D1 Grand Prix but also from a lot of race categories.